Design Contest is simple
Todo diseñador tiene oportunidad de ganar – de principiantes a profesionales. Envía tus ideas creativas al cliente del concurso y tendrás la oportunidad de ser elegido ganador.
¡Tus oportunidades de ganar han aumentado con premios adicionales para 2do y 3er lugar!
Participate in design contests and 1-on-1 projects
Construye tu portafolio personal
Gana dinero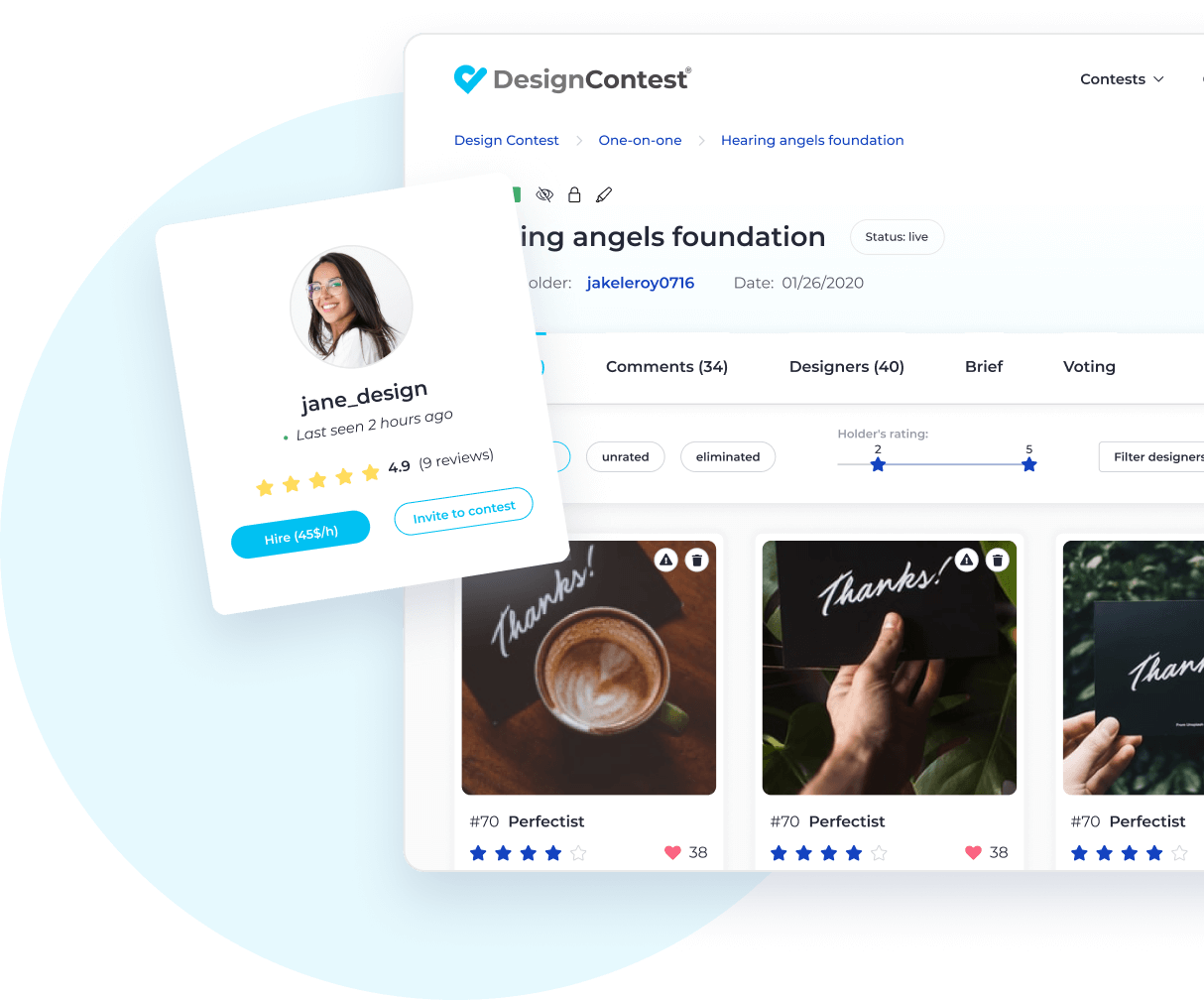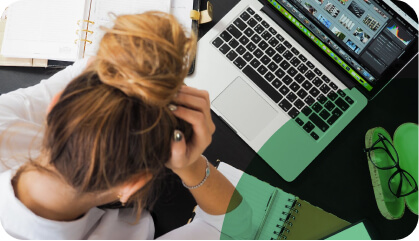 Mejora tus habilidades de diseño
Obtén experiencia valiosa con feedback constructive de los clients. Participar en concursos de diseño crea un ambiente de competencia sana y te impulse a pensar fuera de la caja para crear diseños únicos e innovadores.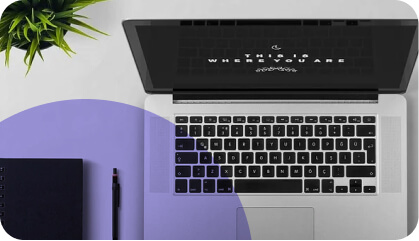 Construye tu portafolio personal
When you participate in contests, you contribute to building your professional portfolio. Promote yourself by sharing a link to your portfolio with other contest holders as well as your future clients.
Control everything in a single place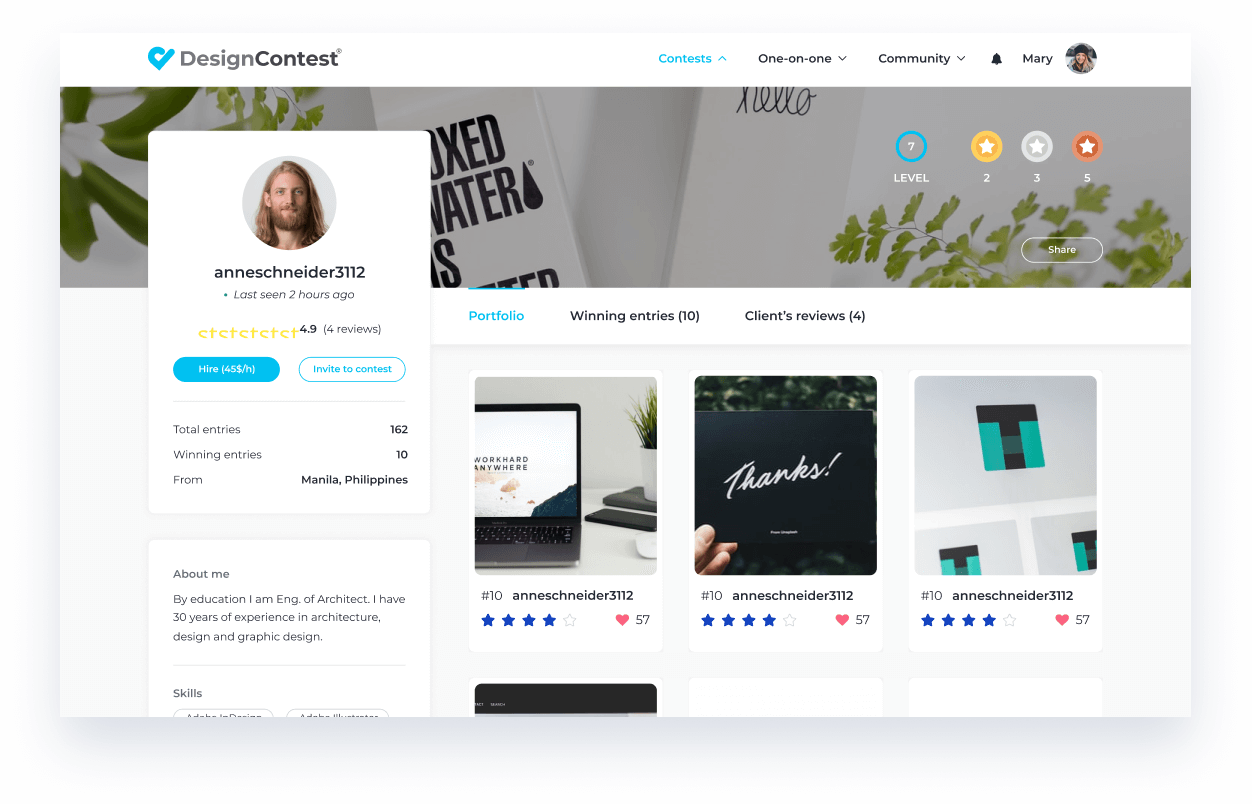 Discusiones
Obtén críticas constructivas de tus trabajos por parte de clients y otros profesionales.
Botón 'Like'
Mira a quién le ha gustado tu diseño
Cada visión cuenta
Descubre cómo muchas personas vieron tu diseño
Opciones de pago flexible
Simplemente elige un método de pago que sea conveniente para ti y recibe el dinero de tu premio en breve. No hay cargos adicionales en las transacciones.
¿Qué tienen que decir los diseñadores?

@lizonil
Diseños: 6418
Ganadores: 169
One word... EXCELLENT. Without a shadow of a doubt, after looking at many online design sites I would have to say that DesignContest is one of the best. They are VERY strict on copyright infringement, the top designers are first rate. You only need to look at the designers portfolios to see this. It is easy to use, and if the contest holder is not satisfied for some reason then he can have his money back. On rare occasions when a 'team' of people cannot agree on one logo, this sometimes happens. I would thoroughly recommend it. The site is friendly, the staff is very helpful, and the designers can have a great sense of humor and work together well.

@paintedPony
Diseños: 1613
Ganadores: 78
Yo disfruto la flexibilidad de trabajar como diseñador con DesignContest.com y competer en los muy diversos e interesantes concursos que se ofrecen. Ayudar a los Clientes a obtener la solución perfecta para sus necesidades de diseños son el tipo de desafíos que disfruto. La administración del sitio, el equipo de soporte y los diseñadores son de primera categoría, y es fantástico ser parte de una comunidad de diseñadores que ofrece un servicio tan grandioso.

@Babba
Diseños: 1613
Ganadores: 78
Not another ".com" money maker service I was looking for some design contests for my very first time, and I stumbled upon Designcontest.com. I took my chances, and join in. At first it was irritating a bit... rules, rules and more rules. Didn't quite get it. I went for other similar sites, and was very much disappointed... It didn't take much to realize all those rules and their necessity. Now, It has been more than two years that I am being part of Designcontest.com. Why choose DesignContest among all of those sites? No matter if you are a client or designer you will get 100% professional care and protection. Frauds are not acceptable. You will get quality design service and technical support. You will meet kind and very helpful DC staff, with their expertise and assistance available 24/7h. You will get easy navigate site pages. You will get your customized design in a short period of time for the best price. You will get design offers from all around the world. You can have your design made by master designers. You will develop yourself in design field. You will meet some nice folks out there. You wouldn't get just another ".com", YOU WILL GET COMMUNITY, where you can feel like at home.

@operhal
Diseños: 2841
Ganadores: 181
To be honest - There is no place like DesignContest.com! I am a designer on DesignContest for more than 3 years. I tried some similar sites but I figure out that DC is just the right place for me! Support is great - which is the most important thing for designer. Our designs are rated and we get feedbacks for our works on a regular basis. I have met some great people there - so design community is pretty active. Can you imagine that there are more than 150.000 registered designers from all around the world? Of course, a lot of them are not so active or familiar with the rules. Those who not follow the rules get banned. So, copycats are well monitored and clients get their protection. For those who plan to become a client of DC be sure that a lot of SUPERB designers will help you to make your idea alive!

@Seerat.Razzaki
Diseños: 2537
Ganadores: 55
Excellent Marketplace for designer & customer. Loved it! I sign up as a designer on DesignContest 2 years ago & from then this is the best place I've ever worked as a freelance designer. Payment & other opportunities are great here. I won many contests & got some wonderful clients through one-on-one projects. Love to be a part of DC. Admin & moderator are so helpful, whenever any trouble arrives they've solved it quickly. Recommend Design contest to everyone🙂🙂

nicolets
Diseños: 17465
Ganadores: 200
Perfect Site for All Design Forms. It's been 6 years since I entered this site, this brought me great experience, working with great and appreciative clients who are very helpful for making me a great designer. The site admins are also very helpful when there are some queries about the project... As a designer, I am recommending this to the whole world.. Join us now and be a part of this great and quality design company!

ramsro
Diseños: 1137
Ganadores: 74
"OMG, this thing really works"🙂. In my country, these crowdsourcing platforms weren't that popular. So I was curious to try and my first win was something like "OMG, this thing really works"🙂. I'm here for more than 5 years and even if I have accounts on other platforms also this's my favorite place to work. I grew as a designer, met wonderful people, had challenging projects so I couldn't be more happy and grateful for everything. Thank you, DC for being there!🙂

imranpro
Diseños: 7129
Ganadores: 29
DesignContest is more than the best! I just don't have words to explain DC. Just salute! When I was a beginner none accepting my work but DC give me the opportunity to work here. Now I am a level 9 designer. And I did dozens of successful projects. DC Just changed my life. Now it's a part of my life. I really love DC so much. I am grateful forever. The admin Moderators are really awesome they politely handle all kinds of situations. Best wishes for DC.
Navegar Concursos
We are a regional trash bin cleaning service

143

Diseños

$295

Recompensa

Cerrado

We own several hunting tranches in Texas. We need a Logo. The attached pictures is the logo we want to use BUT because of all of the small lines, it will not pr...

241

Diseños

$595

Recompensa

Cerrado

Jam Piano Logo for songwriter to put on album art / YouTube videos as a symbol to show that the song was written/produced by Jam Piano

964

Diseños

$295

Recompensa

Cerrado

The Disclose.tv brand is a community of anonymous citizen journalists reporting alternative-news that aims to "let the cat out of t...

70

Diseños

$200

Recompensa

Cerrado

We are looking to do recruitment landing page, for candidates moving overseas. It should be online landing page, so quite straigh forward design. In the top t...

91

Diseños

$595

Recompensa

Cerrado

business for bin trash cleaning and concrete and graffiti

74

Diseños

$295

Recompensa

Cerrado

I uploaded an example of what I like.  its perfect...but now I need something better s...

293

Diseños

$295

Recompensa

Cerrado

We are a hat designer who does mobile events and pop ups. A hat bar.

80

Diseños

$295

Recompensa

Cerrado
Ver todos los concursos
DesignContest es una comunidad conformada por la unión de esfuerzos de talentosos,
y hábiles diseñadores gráficos. Valoramos la originalidad y esfuerzos de cada diseñador
Hazte parte de la comunidad